Dasha Baker, Director of Education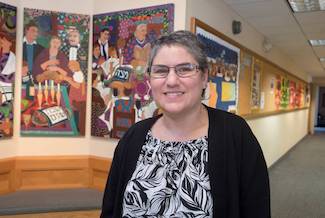 Dasha Baker, our new Religious School Director grew up in Lexington, Mass. After finishing school at UMASS Amherst, she continued to live in Amherst, working at the University, for 10 years. She went to Baltimore for graduate school, then returned to Massachusetts. Dasha currently lives in Watertown, Mass with her spouse, 16 year-old son, and two cats.
Dasha has worked in Religious Schools for over 25 years, serving as teacher, worship leader, tutor, teacher mentor, and madrichim (student aides) supervisor and mentor. In addition, Dasha has a Bachelor's Degree in Judaic Studies, Master's Degrees in Jewish Studies and Jewish Education, and significant experience working successfully with special needs students.
She brings a strong belief in the joy of Judaism and Jewish learning to Sinai Temple and the determination to bring positive Jewish learning experiences to each and every students, saying, "I believe each student should leave at the end of the day knowing or thinking about something they did not know or think about when they came in."
© 2017/5777 Sinai Temple 1100 Dickinson St. Springfield Massachusetts 01108